Cosmetic Dermatology
Dermal Fillers
Our licensed nurse injector, Emily Anderson, RN, BSN, is specifically trained in the injection of BOTOX® and dermal fillers, such as Juvéderm®, for the treatment of facial wrinkles and fine lines. Her skill and expertise with these injections can help minimize these signs of aging without the long recovery time of invasive procedures.
Additional Information
Laser Services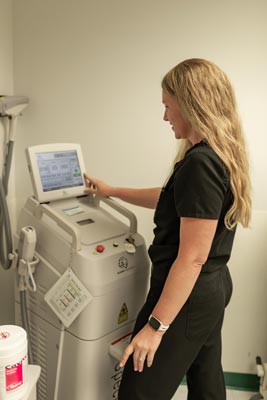 If you have unwanted hair that you would like to be rid of for good, you'll love laser hair removal. New technology allows us to target each hair without burning the surrounding skin. Laser hair removal is effective on all body and facial hair.
Because hair grows in cycles, and the laser can only target follicles that are actively producing hair at the time of treatment, multiple treatments may be required to effectively remove all hair in an area.
We are also equipped with the Diode laser, which is safe to use even on the darkest skin tones.
Additionally, the laser can be used to treat facial veins and dark spots of the skin, which are some of the earliest signs of aging brought on by exposure to harmful UV rays. Additional services offered are IPL, laser resurfacing and tattoo removal.
For more information, please schedule a complementary consultation with our laser certified RN, who is happy to answer your questions and determine whether our laser services can help you.
Esthetic Services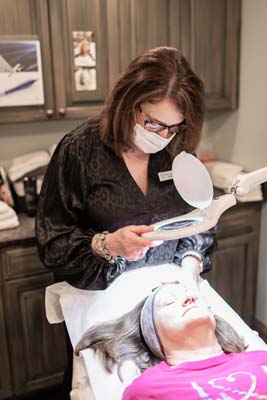 An important part of your skin health is knowing how to care for your skin. Our in-office esthetician can customize a skin care regimen for you and recommend products that will help you achieve the beautiful skin you desire.
We also offer a variety of facials and peels that not only improve the appearance of your skin, but may also help prevent skin cancer. Our esthetician can help you decide which peel or facial is right for you. We offer the following:
Glycolic Acid Peels
Microdermabrasion
Microneedling
Retinol Peel
Skin Care Products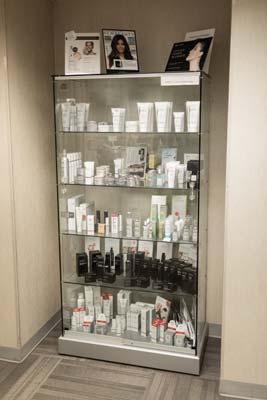 Dr. Freeman offers a line of skin care products available to purchase in our office. Many of the products are prescription strength with prices competitive to pharmacy prices. Some of the products include:
Sunscreens
Moisturizers
Washes
Skin rejuvenation products
ELTAMD
Revision Skincare
Neova
Dr. Freeman Private Label
We are also a retailer for Latisse®, which is the only prescription used to treat thinning lashes by making them longer and fuller. Call our office for pricing information.